Dear Customers, This change has been a long time coming and we're excited to announce that: Sinfully Raw Vanilla (82%) Dark is now  Forest Garden Vanilla (83%) Dark After running lab tests on the Forest Garden Vanilla Bar, it was found that the cacao nibs actually increased the cacao content to 83%. This will be reflected on future packaging. This name represents the connections between Vanilla and Cacao. The vines of Vanilla grow on and amongst the Forest Garden Cacao trees where ChocoSol sources our cacao. The concept of the "Forest Garden" that supports healthy soil, healthy plants and bio-diversity...
---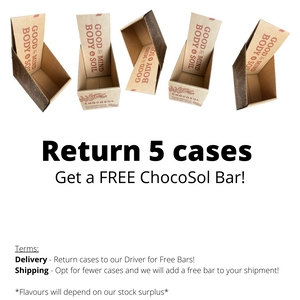 We are excited to fully launch our case return program this year. Some of you have been returning cases for the past 6 months and we really appreciate it. It helps us save costs, time, storage and eases the stress on our production team. We love to thank you with free bars so that your staff can enjoy a ChocoSol treat as well. Most importantly it helps us keep waste out of landfill. The first year of the program was a success and we want to make sure that everyone of our Wholesale Partners has the opportunity to take advantage...
---
We invite you to join us in an eco-coffee revolution this month with 5% all wholesale orders that include a case (25 bags) of coffee until Feb 8th.
Discount will be applied to final invoice. 
---
Kakai + Cacao is now available for order for Halloween! 
Merry Mint and Christmas Cranberry are available for Pre-order. Please email orders@chocosoltraders.com to place a pre-order!
---
10% off Master Case Flavours: Vanilla Sea Salt & Darkness